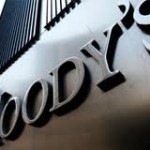 Рейтинговое агентство Moody's Investors Service поместило рейтинги крупнейших финансовых компаний США на пересмотр с негативным прогнозом. В фокус агентства попали: Bank of America Corp, (NYSE:BAC), Citigroup Inc., (NYSE:C) и Goldman Sachs Group Inc. (NYSE:GS)
In the latest setback for investment banking, Moody's Investors Service placed the ratings of Bank of America Corp., Citigroup Inc., Goldman Sachs Group Inc. and three other global financial institutions on review for possible downgrade because it says the business' profitability will be diminished longer term.
Moody's also said Wednesday it is reviewing JPMorgan Chase & Co., Morgan Stanley and Royal Bank of Canada for possible downgrade. Seven other financial firms' reviews were extended Wednesday as part of a separate ratings action on European banks, while four more had other negative reviews extended.
Revenue and profits from capital markets businesses, made up of securities trading and underwriting and financial advice to corporations about mergers and acquisitions, make up a big part of the overall earnings at Bank of America, Citi and JPMorgan, and are essentially the entire business of Goldman Sachs and Morgan Stanley.
The ratings firm cites new economic and regulatory challenges that could dim the banks' future growth prospects. Capital markets firms are confronting «more fragile funding conditions, wider credit spreads, increased regulatory burdens and more difficult operating conditions,» along with «inherent vulnerabilities» and «opacity of risk,» the ratings firm said.
Moody's last year adjusted the ratings of big banks because it no longer believes banks would get the same help from governments that they did during the 2008 financial crisis if they got into trouble again.
Regulators, meanwhile, have curbed the investment banking business somewhat, particularly proprietary trading—a business where banks trade on their own account rather than for their customers. Also, investor concerns about the European debt crisis have damaged world-wide capital markets and dented profits from securities trading and underwriting in the second half of last year.
Moody's said it at first expected the banks' standalone credit profiles to recover after the acute phase of the 2008 financial crisis had passed, but it now sees those challenges as ongoing structural problems for global investment banks.
«Rapidly changing risk positions expose these firms to unexpected losses that can overwhelm the resources of even the largest, most diversified groups,» Moody's wrote. «Such challenges caused several issuers to fail, or to avoid failure only upon the receipt of external support, during the 2008 financial crisis.»
«Some of these risks have been partly mitigated…but they have not been eliminated,» the ratings firm said.
Citigroup, for example, needed two capital infusions from the U.S. government after investor, and subsequently customer, confidence in the bank eroded following ongoing losses from securities stuck on Citi's balance sheet in late 2008. Citi ultimately required $45 billion and other government help to stabilize.
A spokesman for Citi said late Wednesday the bank has since «made significant progress» in restoring capital and liquidity. The bank's tier 1 common capital ratio, a critical regulatory measure of a bank's health, was a healthy 11.8% on Dec. 31, 2011. Credit quality continues to improve, «and Citi has appropriately sized exposure to Europe,» the spokesman said.
Representatives for Goldman Sachs, Morgan Stanley, Bank of America, and JPMorgan declined to comment on Moody's review. But JPMorgan Chairman and Chief Executive Jamie Dimon told investors at a conference in December that investment banking is «still a great business.» For «our customers—and this is true for Goldman's customers, and Morgan's, and Citi's, and everybody else—equity, debt, capital markets, balance-sheet management, advice around the world, is going to still be there in years.
«There's going to be huge growth over 10 or 15 years. It's a volatile business. I don't think you should look at the business and say, OK, that's permanent. It's not permanent.»
При подготовке обзора использована информация: American Banker.com